Cyprus is a beautiful island country in the eastern Mediterranean that boasts stunning beaches, picturesque villages, and rich cultural heritage. However, when it comes to the must-visit destinations in Cyprus, Kyrenia, also known as Girne, stands out as one of the most charming and intriguing places to explore.
In this article, we'll take you on a journey through Kyrenia, sharing some of its most awe-inspiring attractions, historical landmarks, and hidden gems. Our goal is to provide you with an in-depth guide to Kyrenia that will help you plan a memorable trip to this fascinating destination.
Discovering Kyrenia's Natural Beauty
Exploring Kyrenia's Pristine Beaches
Kyrenia's coastline is a paradise for beach lovers, with crystal-clear waters and golden sands that stretch for miles. One of the most popular beaches in Kyrenia is Escape Beach, a secluded cove with stunning views of the Mediterranean Sea. It is an excellent spot for swimming, sunbathing, and water sports such as kayaking and jet-skiing.
Another must-visit beach is Alagadi Turtle Beach, where visitors can witness endangered sea turtles laying their eggs during the nesting season. The beach is also a favorite spot for windsurfers and kite surfers due to its steady winds and ideal conditions.
Hiking in Kyrenia's Scenic Trails
If you're a nature lover and enjoy hiking, you'll be spoiled for choice in Kyrenia. The Five Finger Mountains offer a range of scenic trails that vary in difficulty, from easy walks to challenging climbs. The trails take you through lush forests, past cascading waterfalls, and offer breathtaking panoramic views of the Mediterranean.
One of the most popular hiking trails is the Besparmak Trail, a 260-kilometer-long trail that stretches along the Kyrenia mountain range. The trail passes through quaint mountain villages and takes you to the highest peak in Cyprus, Mount Olympus, where you can enjoy sweeping views of the island.
Kyrenia's Historical and Cultural Treasures

Kyrenia Castle and Shipwreck Museum
Kyrenia Castle is one of the most iconic landmarks in Cyprus, dating back to the Byzantine era. The castle houses a museum that showcases the island's rich history, including exhibits on its maritime heritage, Ottoman rule, and the island's flora and fauna.
One of the most fascinating exhibits in the museum is the Kyrenia Shipwreck, a 2,400-year-old Greek merchant ship that sank off the coast of Kyrenia. The shipwreck was discovered in 1965 and is considered one of the most significant archaeological finds of the 20th century.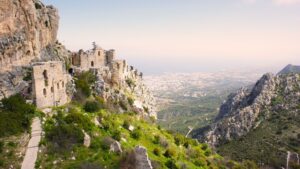 St. Hilarion Castle
Another must-visit attraction in Kyrenia is St. Hilarion Castle, a fairytale fortress perched on a hilltop overlooking the sea. The castle dates back to the 10th century and was originally built as a monastery before being converted into a defensive fortress.
The castle's architecture and location have inspired many legends and myths over the centuries, and it is said to have been the inspiration for Walt Disney's Snow White and the Seven Dwarfs.
Kyrenia's Culinary Delights
No trip to Kyrenia would be complete without indulging in some of its delicious culinary offerings. The city boasts a range of restaurants and cafes that offer traditional Cypriot dishes, including fresh seafood, grilled meats, and meze, a selection of small dishes that are perfect for sharing.
One of the most popular dishes in Kyrenia is kleftiko, a slow-cooked lamb dish that is tender and flavorful. Another must-try dish is halloumi cheese, a Cypriot specialty that is grilled or fried and served as an appetizer or side dish. You can also try fresh octopus, calamari, and prawns, which are caught daily from the Mediterranean.
For dessert, make sure to try traditional Cypriot sweets such as loukoumades, small doughnuts drizzled with honey syrup and sprinkled with cinnamon, or kataifi, a sweet pastry made of shredded phyllo dough filled with nuts and soaked in syrup.
Getting Around Kyrenia
The best way to explore Kyrenia is by car, as it gives you the flexibility to visit all the attractions at your own pace. Car rental agencies are available at the airport and throughout the city, and you can easily book a car online before your arrival.
Alternatively, you can use the public transportation system, which consists of buses and taxis. Buses run regularly between Kyrenia and other cities on the island, and taxis are available for hire from taxi stands or by booking in advance.
Conclusion
Kyrenia is a fascinating and enchanting destination that offers something for everyone. From its pristine beaches and scenic hiking trails to its historical landmarks and culinary delights, there is no shortage of things to see and do in Kyrenia.
We hope this guide has provided you with valuable information and inspiration for your trip to Kyrenia. By following our suggestions and recommendations, we are confident that you will have a memorable and enjoyable experience that will stay with you long after you return home.
If you fall in love with Kyrenia during your visit and want to make it your permanent home or invest in property, there are plenty of options available.
Kyrenia offers a variety of properties for sale, from apartments and villas to townhouses and commercial properties. With its stunning views, rich history, and welcoming community, Kyrenia has become a popular destination for real estate investors.
In conclusion, Kyrenia is not only a great destination for a holiday, but also a great place to invest in property or find your dream home. With its natural beauty, rich history, and welcoming community, Kyrenia has something to offer everyone. If you are considering buying property in Kyrenia, contact us!