Is it safe to buy property in Northern Cyprus?
That's the common question people ask who don't know North Cyprus History and its political situation. And the answer to this question is "yes!". There has been a lot of misleading information in the media lately by the Greek Cypriots international lobby that would have you believe that land and property in Northern Cyprus is potentially subject to a legal claim and that is quite simply NOT the case – this article explains the situation fully. It is important that you take a little time to understand the political situation on the island before you judge something without enough information about it. Yes it's safe, we have our title deeds issued by our government (TRNC) and we have been paying taxes for them for the last 30 years.
In years gone by changes to the law in recent years have helped to reduce the risks when buying property in North Cyprus, significant some problems still remain in cases where properties are purchased from wrong developers and locally unlicensed overseas estate agents.
However, the TRNC government has changed the property buying process for noncitizens and now your property purchase / your investment protected if you follow right path.
Use a Reputable LOCAL BASED Estate Agent
Use A Lawyer who is professional only on property conveyancing
Only Send Money Online through your lawyer bank account
Ask full search from your lawyer before you make first payment.
Get Inheritance Laws and Wills
Make good search about type of property, prices and location.
Can noncitizens or EU citizens buy property in northern Cyprus?
Yes , Any nationalities can buy property in North Cyprus ( TRNC ).
What's more, it's more easier to do so here when compared with many European countries.
Wishing to purchase in Northern Cyprus are limited to one property per person. Alternatively, up to one donum of land (1,338sq meters or 14,400 sq.ft) or one house buıld on maximum 5 donum of land.
All purchases are subject to permission from the Council of Ministry, which can take about eight months to complete.
Is Northern Cyprus TRNC safe to live?
The Turkish Republic of Northern Cyprus is still remains top safest destinations in the Europe at Mediterranean. Crime levels are very low.
Can I Import my Vehicle to North Cyprus ?
 The simple answer is YES. However certain Rules and conditions apply.
There are restrictions on the age of cars that can be imported to the TRNC. Cars under 5 years of age can be imported by the legal owner. However as long as the car has been owned > 2 years then age does not matter in this instance. For Classic cars only the year of the vehicle's manufacture is taken into account.
It is important to prove the Vehicle is registered to the person wishing to import it. Customs and excise duty must be paid on all vehicles being imported. The vehicle must have a certificate that it has passed through the Customs and Exercise warehouse, and this is usually carried out in Famagusta.
Foreigners relocating to North Cyprus can import their vehicle without paying import tax when they initially move to the TRNC and can apply for import after 60 days of continuous stay.
The documents required.
Temporary Residency permit
Last 10 Years Police Ins and Outs Document available at the Police stations
Kocan/ Rental agreement for your property in Northern Cyprus
Mukhtar's Residence certificate
Passport
Car registration documents (V5 UK)
​Normally, only vehicles <5 years old may be imported.  However, if you are importing a vehicle when first relocating to the TRNC and the vehicle has been registered in your name for > 2 years, the age restriction does not apply.  Also, if the vehicle was previously registered to an immediate family member and then subsequently gifted to you, if the length of ownership by you and your immediate family member is >2 years, the 5-year age restriction does not apply. To be eligible to import your car under the relocation option you cannot have resided in the country for >1 year in the last 10 years, and you must have resided in the TRNC for >3 months before you import your car.
Age restrictions also apply as Vehicles can only be imported by people over 25 years old for TRNC citizens and over 35 years of age for Foreigners.
Once your car arrives here it is best to employ the services of a Customs Broker who knows the rules well and will guide you through it all.
As a guide there are certain taxes that need paying as a percentage of the valuation of the car (using Glass Guide UK) A rough illustration is given below for a car valuation of £11,000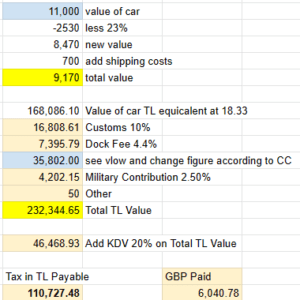 In addition, depending on engine size the below rates per CC are payable.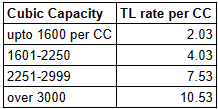 Once you have paid all the taxes due then it's time to register your car in TRNC. To do this it is advisable to employ a person who does this step for you.
It involves getting a new vehicle registration, MOT, Road Tax, Reg plates.
Once this is all done your car is fully imported and legal in the TRNC.
Can I bring my furniture from abroad to Northern Cyprus ?
Again, the answer is yes, and certain conditions need to met here.
Is Northern Cyprus a good place to invest or buy property?
Turisim and Education industries are the most promising and dynamic factors of the buy to let property market in Northern Cyprus.
With a population of 300,000 there are 9 universities in Northern Cyprus serving both domestic and international students with over 90,000 students and numbers are continue to rise.
How much is cost to hire lawyer / solicitor / attorney when buying property in North Cyprus?
There is no standard fee when hiring a lawyer in any country but in North Cyprus property  conveyance fees starts from 1200 to 1500 GBP + 18% VAT.
Do I need lawyer when buying property in North Cyprus?
NO, we highly recommend you to hire a lawyer solicitor when buying property in Northern Cyprus.
Can we buy property in North Cyprus?
Select Estates International accept bitcoin and any other cryptocurrencies. North Cyprus has crypto friendly environment, you can buy real estate, cars and furnitures with crypto. However there is no regulation yet so every buyer responsible with they safety.
Is Bitcoin legal in North Cyprus?
There is no legal regulation yet however there are more than 20 crypto Exchange offices already open and TRNC Government working on legal status of bitcoin trades. Almost every store accepts crypto payment in Northern Cyprus.
Is Bitcoin or cryptocurrency allowed in Northern Cyprus ?
YES, everyone can buy, sell and hold Bitcoin in North Cyprus through an exchange or broker.
What Language Is Spoken In Northern Cyprus?
Turkish is the official national language ofNorthern Cyprus TRNC. However, English language well spoken.
Is English Spoken in Northern Cyprus?
Yes. English well spoken in Northern Cyprus after official lounge of Turkish.
Can I use my UK driver's license in North Cyprus?
Yes. Temporary you can use any other country driving licence.
How to Get a Driving License in Northern Cyprus?
You just need to go any local Driving school with you existing driving licence and apply for local.
How can I stay more than 90 days in Northern Cyprus?
You need to go and see immigration or apply for residency in North Cyprus. You need to purchase property or rent to be able to apply for residency permit.
How many Cryptocurrency exchange offices in Northern Cyprus?
There are more than 20 offline bitcoin exchange offices and 2 online exchanges available in North Cyprus.
How much money do you need to retire in North Cyprus?
Retirement in Northern Cyprus tends to be lowest cost in Europe. If you don't pay rent than you can retire comfortably on about minimum $1000 a month, about $12,000 a year.
Can a UK or EU citizen buy property in North Cyprus?
Yes, it is possible for a UK or EU citizen or citizens of other countries to buy property in North Cyprus.
Can one person own two properties in North Cyprus? Can you own two properties in North Cyprus?
No its only  possible for every individual to own one property in North Cyprus, subject to the relevant laws and regulations governing property ownership in the region.
Do I need to own property for North Cyprus residency?
No, you can also rent and get residency in Northern Cyprus as long as you can prove that you have enough savings.
Do you need deeds to sell property in North Cyprus?
Yes, having proper title deeds is crucial for selling property in North Cyprus. 
How to buy property in North Cyprus?
The process of buying property in North Cyprus typically involves several steps. Here is a general overview:
a. Find a reputable real estate agent who specializes in properties in North Cyprus.
b. Conduct thorough research on the property, including its legal status and any potential disputes.
c. Engage the services of a local lawyer who is familiar with property laws in North Cyprus.
d. Sign a purchase contract with the seller and ensure that all terms and conditions are clearly defined.
e. Pay a deposit, usually around 10% of the property's value.
f. Work with your lawyer to conduct due diligence, including title searches and property inspections.
g. Finalize the purchase by signing the transfer of ownership documents and paying the remaining balance. h. Register the property in your name at the relevant government department.
Remember, it is crucial to seek professional legal advice before proceeding with any property purchase in North Cyprus to understand the legal implications and risks involved.