North Cyprus, also known as the Turkish Republic of Northern Cyprus, is a hidden gem in the Mediterranean. Its rich history and diverse culture make it a unique and exciting destination for travelers. One of the best ways to experience the local culture is through its food. In this article, we will take you on a journey through the best places to eat in North Cyprus.
Traditional Turkish Cypriot Cuisine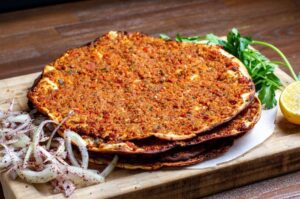 When it comes to food in North Cyprus, traditional Turkish Cypriot cuisine takes center stage. The cuisine is a blend of Mediterranean and Middle Eastern flavors, with an emphasis on fresh, locally sourced ingredients. The most popular dishes include meze, kebabs, and grilled fish.
International Cuisine
North Cyprus is not just about traditional Turkish Cypriot cuisine; it also offers a range of international cuisine options. Whether you're in the mood for Italian, Chinese, or Indian, you'll find plenty of options in North Cyprus.
Fine Dining
If you're looking for a special dining experience, North Cyprus has plenty of options. From restaurants with stunning views to those with Michelin-starred chefs, there's something for everyone.
Street Food
For those on a budget or looking for a quick bite, North Cyprus has a range of street food options. From doner kebabs to freshly baked pastries, you'll find plenty of delicious and affordable options.
Conclusion
In conclusion, North Cyprus offers a range of culinary options that are sure to satisfy any palate. From traditional Turkish Cypriot cuisine to international fare, fine dining to street food, North Cyprus has it all. We hope this comprehensive guide has helped you discover the best places to eat in North Cyprus.
Here are some famous restaurants in Northern Cyprus with their addresses:
Niazi's Restaurant – Address: Ecevit Caddesi, Lapta, Girne
Liman Restaurant – Address: Kordonboyu Caddesi, Kyrenia Harbour, Girne
Bellapais Gardens – Address: Bellapais Yolu, Girne
Al Shaheen – Address: Mustafa Cagatay Avenue, Karakum, Girne
The Ambiance – Address: Osmanpasa Caddesi, Girne
Efendi Restaurant – Address: Zeytinlik, Girne
The Meyhane Restaurant – Address: Boğaz yolu, Lapta, Girne
Silver Rocks – Address: Denizkizi Hotel, Alsancak, Girne
Ezic Restaurant- Address:  Kyrenia Harbour, Girne
Hanimeller Restaurant – Address: Gazimagusa Caddesi, Lapta, Girne
Please note that due to the dynamic nature of restaurants and their operations, it is recommended to verify the address and operating hours before visiting.