As you embark on a journey of discovery through Northern Cyprus, one destination that you absolutely cannot afford to miss is the stunning Bellapais Abbey. Tucked away in the charming village of Bellapais, this awe-inspiring 14th-century structure is a testament to the region's rich cultural heritage and architectural prowess.
History and Architecture of Bellapais Abbey
Constructed in the early 14th century, Bellapais Abbey was built by Augustinian monks who arrived in the region during the Crusades. The architectural style of the abbey is a blend of Gothic and Norman influences, with soaring arches and intricate carvings adorning the walls and ceilings.
The abbey was constructed using local limestone, which gives it a unique golden hue in the sunlight. The interior of the abbey is just as stunning as the exterior, with ornate chapels, intricate stained-glass windows, and an impressive nave that spans the length of the building.
Exploring the Abbey Grounds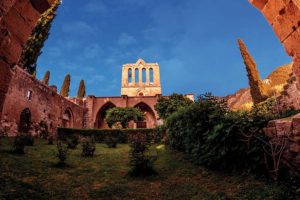 As you explore the grounds of Bellapais Abbey, you'll be struck by the sheer scale and beauty of the complex. The cloisters and gardens are particularly impressive, with vibrant flowers, manicured lawns, and tranquil water features providing the perfect backdrop for a leisurely stroll.
One of the highlights of the abbey is the Bell Tower, which offers stunning views over the surrounding countryside. From here, you can see all the way to the coast and take in the breathtaking beauty of the Mediterranean Sea.
Visiting Bellapais Abbey
Bellapais Abbey is open to visitors year-round, and admission is free for children under the age of 12. Guided tours are available for a nominal fee and are highly recommended for those who want to learn more about the history and architecture of the abbey.
There are plenty of other attractions in the area as well, including the picturesque village of Bellapais itself, which is home to a number of charming cafes, restaurants, and boutiques. Whether you're a history buff, an architecture enthusiast, or simply looking for a peaceful retreat in the heart of Northern Cyprus, Bellapais Abbey is the perfect destination.
Conclusion
In conclusion, Bellapais Abbey is a true gem of Northern Cyprus, and a must-visit destination for anyone exploring the region. With its stunning architecture, rich history, and tranquil grounds, the abbey is a testament to the beauty and cultural richness of this part of the world. Whether you're a solo traveler, a family with kids, or a group of friends looking for a unique experience, Bellapais Abbey is sure to captivate and enchant you. So, pack your bags, grab your camera, and get ready to discover the enchanting beauty of Bellapais Abbey!